The largest quilt show in Europe is from 1st – 4th August, at the National Exhibition Centre in Birmingham.
I will be teaching more than ever this year – nine sessions in all. I am particularly thrilled to have been given one of the lecture slots in the large theatre in the main body of the show.
Book for any of these on the Festival of Quilts webpage – some are selling out fast already.
Antique British Strippy Quilts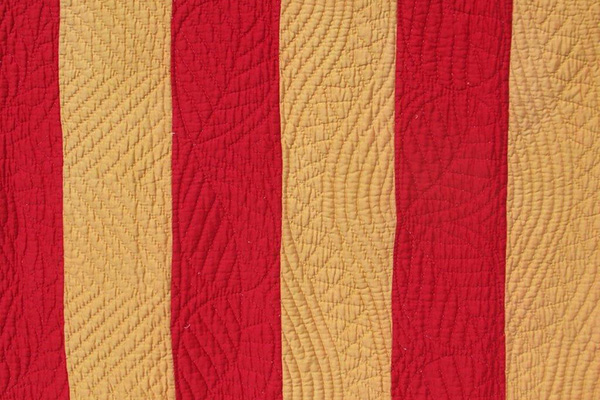 Lecture
Sunday 4th August 15:45
One of the most distinctive styles of quilt made during the late nineteenth and early twentieth centuries in Britain was the "Strippy Quilt". The hand quilted designs, which include cables, plaits, worms and running feathers, run from top to bottom along fabric strips of alternating colours.
Come and listen to the lecture to discover how, why and when these quilts were made, illustrated with examples from my collection.
If you would like a little preview, have a look at the Turkey Red & Sand North Country Strippy Quilt page.
Introduction to Hand Quilting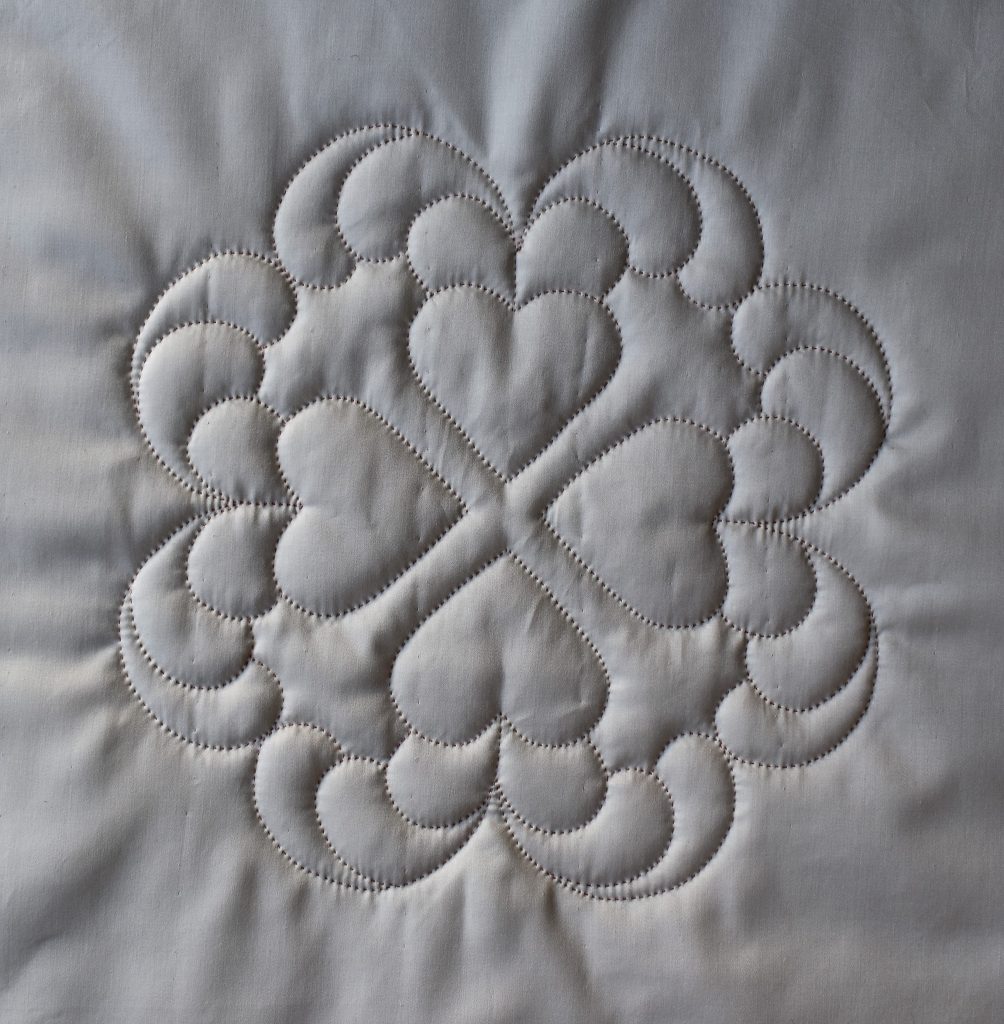 Demonstration
Saturday 3rd August 12:30
Want to try hand quilting, but not sure where to start? In this 30 minute demonstration, I will discuss how to choose suitable fabric, wadding, designs and equipment.
I will then show you how to layer your quilt sandwich and mark out the design, followed by a demonstration of the rocking stitch. You will be able to take away instructions and a free pattern to stitch this beautiful feathered hearts design for a cushion.
If you can't wait that long, look at the series of pages on this website about starting hand quilting.
Don't Chop off the Points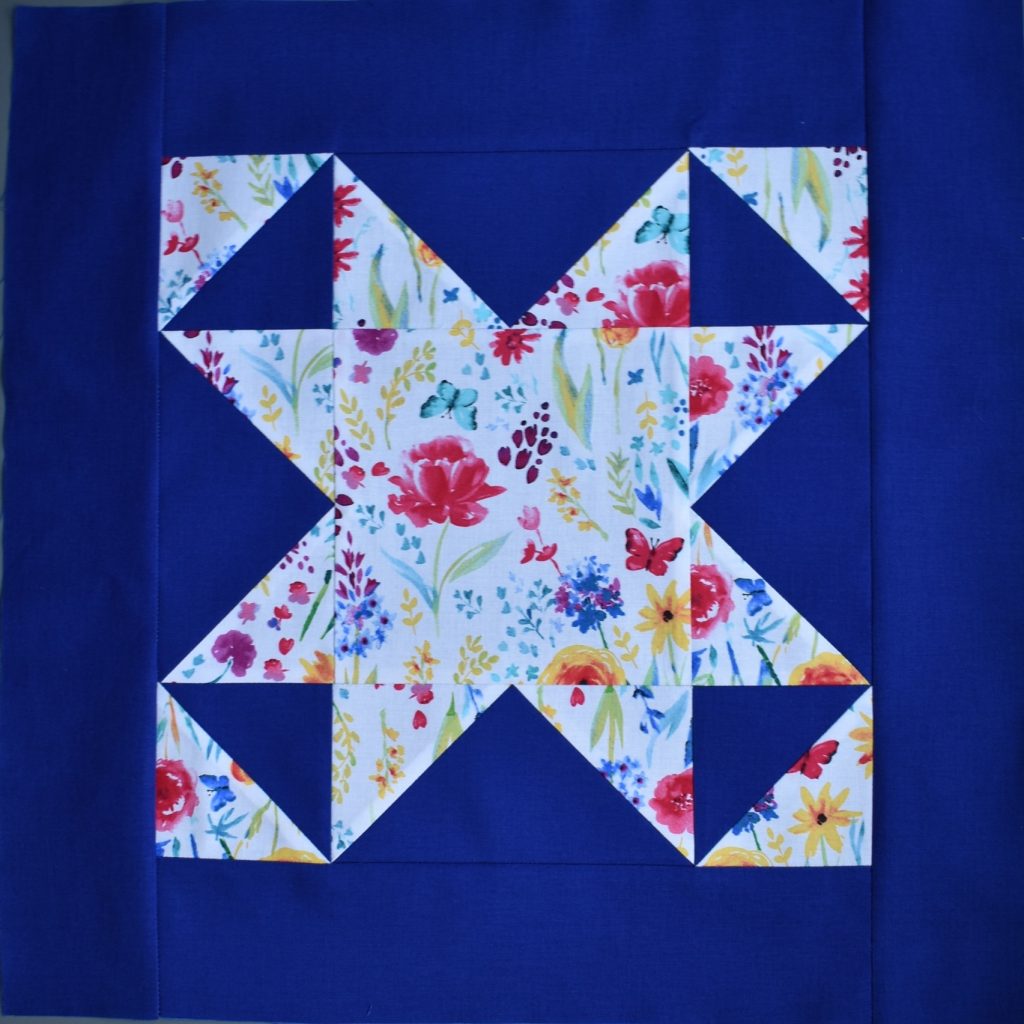 Demonstration
Friday 2nd August 15:30
Many interesting blocks can be made using half-square triangle units or flying geese units, but it is easy to chop off the points when stitching them together, giving disappointing results.
Come and watch me make this "Magic Cross Design" block at the Festival of Quilts. You will discover the tips for cutting, pressing and stitching that will help you to get better results in all your machine-stitched patchwork, including how to achieve perfect points!
You can read about my Pressing for Perfect Points techniques on this website.
Designing Grid Quilting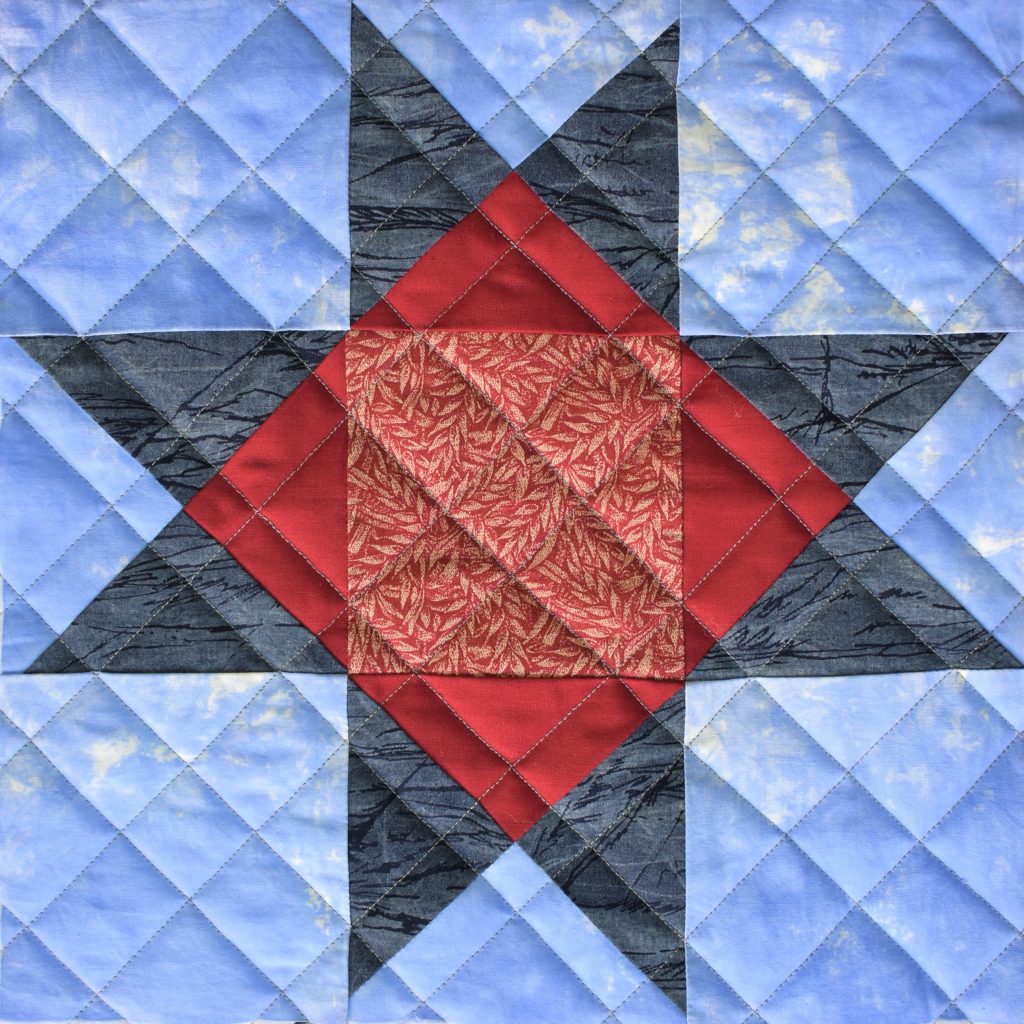 Academy class
Friday 2nd August 17:00 – 18:30 Twilight class
Another repeat of a sold-out class from last year.
All-over grids can make a quick and effective choice of quilting design, whether you stitch by hand or machine. In this design class (no stitching), you will learn how to plan and mark a selection of simple designs. I will also use my quilts to show you how to plan the placing of the grid in harmony with the underlying structure of any traditional block, so that stitching will avoid the bulky joins.
If you can't get to the show in Birmingham, a look at this Grid Quilting page about my techniques will give you an idea about what you are missing – again there is a techniques pack for sale if you would like to work through this at home, or with your quilting group.
Perfection and Precision with Flying Geese
Academy class
Saturday 3rd August 17:00 – 20:00 Twilight class
Flying Geese are popular units found in many traditional patchwork blocks and borders. Come and discover my tips for machine stitching perfect Flying Geese, and joining them so that you achieve perfect points.
A variety of block patterns will be available, suitable for students of varied experience, so that you can select one to complete during the class using your own fabrics, and practice the others at home.
This is a twilight class – perfect if you don't want to miss a moment of the time when the show is open. Sewing machines and equipment are provided.
Drafting Running Feather Designs for Quilting
The running feather is a beautiful border quilting design. Come and practice drawing one at this class, suitable for either hand or machine quilting. Discover how to use my specially designed grids to obtain a perfect fit and style for your quilt. Suitable for any level including older children when accompanied by an adult.
Running Feather designs were popular on Strippy Quilts made in the North East of England in the late nineteenth and early twentieth centuries. This Pink & Cream Strippy Quilt from my collection includes them.
Making a running feather turn a corner elegantly is a skill which eluded many quilters in the past. They often avoided doing this by using a corner motif such as a rose – see the North Country Harle Wedding wholecloth for a lovely example.
The FoQ class will cover the geometry necessary to make a successfully sweeping corner, if you would like to learn how to do this.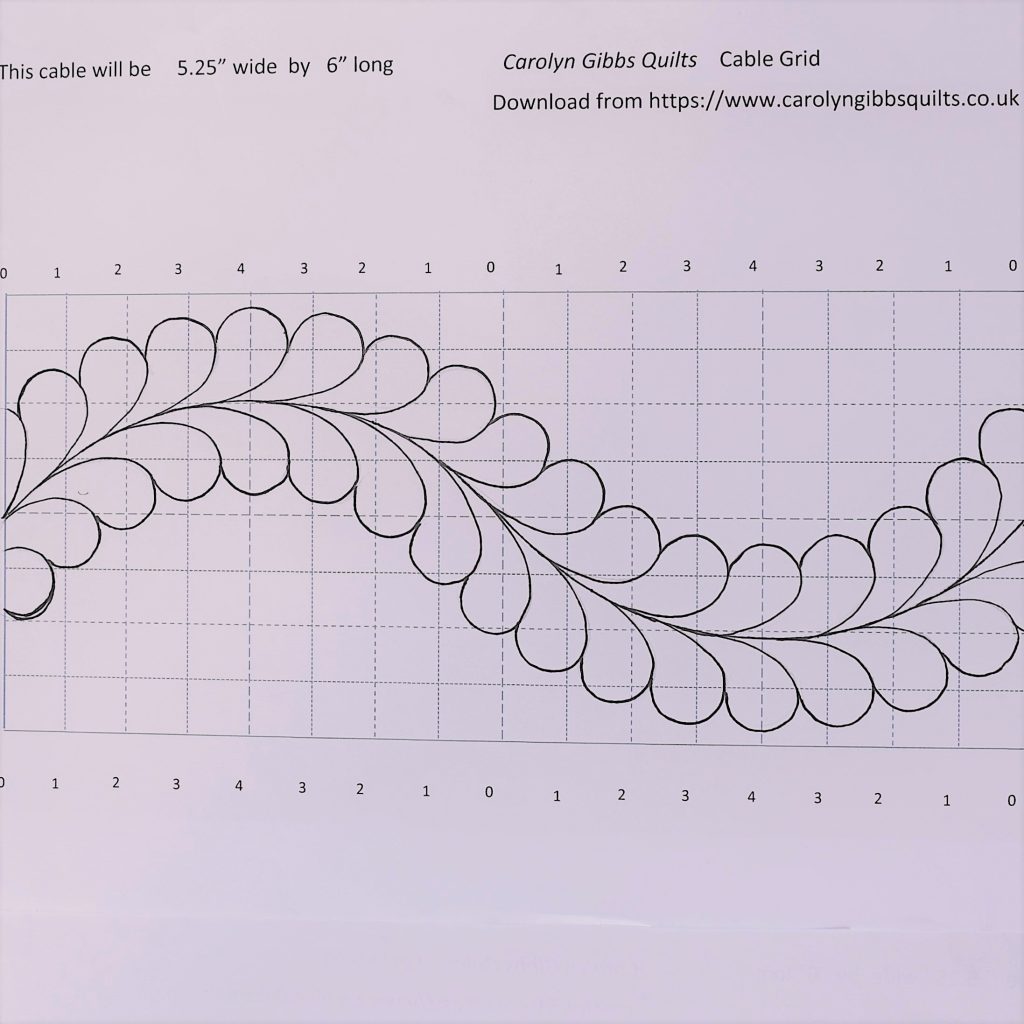 Quick & Easy
Friday 2nd August 10:30 (already sold out)

Sunday 4th August 10:30
Drafting Cable Designs for Quilting
This one hour workshop is a repeat of a popular session last year, now updated to include corners.
Cable designs are a popular choice of quilting design for sashing and borders, whether you stitch by hand or machine. However, purchased stencils are rarely the correct size. In this workshop, you will practice drawing a cable design, using my specially designed grids, and take away instructions so that you can draft cables of any length, width or style for your own project. Suitable for any level including older children when accompanied by an adult.

If you would like to see some of what will be covered, have a look at the Drafting Cable Borders page. If you can't make it to the Festival of Quilts, then a download pack of full instructions is available from my online Shop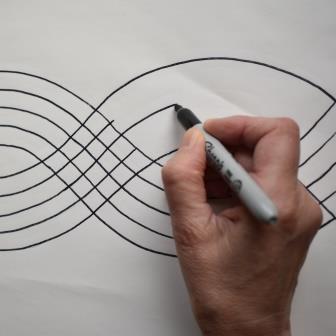 Quick & Easy
Thursday 1st August 10:30 (already sold out)

Saturday 3rd August 10:30 (already sold out)
Book for any of these classes on the Festival of Quilts website here