As I am teaching lots of classes there again this year, I have five free tickets to the Festival of Quilts to give away!
So, I have set up a small competition for you to try to win one.
Overseas quilters, or anyone else unable to attend the Festival of Quilts at the N.E.C. Birmingham, UK from 1st – 4th August 2019, may request any download pattern or Techniques pack from my online Shop as an alternative prize if they win.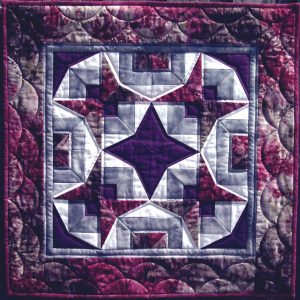 It's a simple quiz with six questions and a tie breaker. You can find all the answers on this website.
The first question asks
What is the name of this quilt?
Taking part
If you would like to take part, click on this link to an interactive Google Form.
You will be asked to enter your email address, then if you click Next, it will then reveal the quiz. You can then keep the Quiz open while you explore the website to find the answers, and even go back to it later if you want to change something. Don't forget to click "Submit" after it shows the Rules again at the end.
Rules
All of the answers to these questions can be found by exploring this website, https://www.carolyngibbsquilts.co.uk/
There are five prizes, each consisting of a one day ticket for the Festival of Quilts.
The prizes will be awarded to those entrants who get the maximum correct answers for questions 1-6.
You may go back and adjust your answers at any time before the closing date, but only your final answer will be considered.
In the case of a tie, the best answers to question 7 will be used to determine the winners.
Overseas entrants, or others who are not able to travel to the Festival of Quilts (to be held in Birmingham, UK between 1-4th August 2019), may request a download pattern of their choice as an alternative prize. Unclaimed tickets will be made available to additional prizewinners. No other options available.
Entrants must be aged 16 or over.
The closing date is 11:59 pm (GMT) 14th July 2019.
Winners will be emailed within one week of that date.
This promotion is being run by Carolyn Gibbs Quits. Our privacy policy includes the steps we take to keep your data secure.
No purchase is necessary.
If you accessed this website via Facebook, they require this condition:
This promotion is in no way sponsored, endorsed or administered by, or associated with, Facebook, and Facebook will not have access to your data.
By entering and participating, the entrant agrees to hold harmless, defend and indemnify Facebook from and against any and all claims, demands, liability, damages or causes of action (however named or described), losses, costs or expenses, with respect to or arising out of or related to (i) entrant's participation in the competition, or (ii) entrant's participation in any Prize related activities, acceptance of a Prize and/or use or misuse of a Prize (including, without limitation, any property loss, damage, personal injury or death caused to any person(s).