This was the first antique quilt I ever bought.
I had developed several different small quilts using the simple Northern Lights block , and was preparing to teach this at the Festival of Quilts in 2006. Just prior to that, we came across this antique quilt while we were on holiday, and I thought it would perfectly illustrate another layout possibility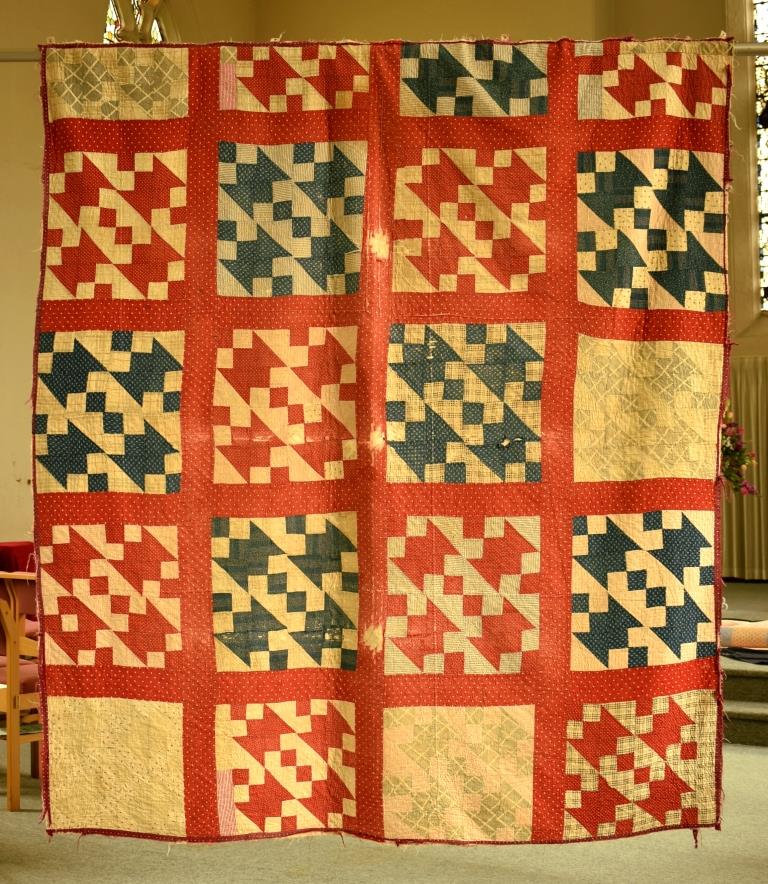 Patchwork
Four of the small Northern Lights units, all arranged in the same direction, are stitched together into larger blocks.
Blocks using either red or blue fabrics with paler background fabrics (small prints/pale plaids/stripes), are alternated and separated with sashing of a red fabric spotted with white.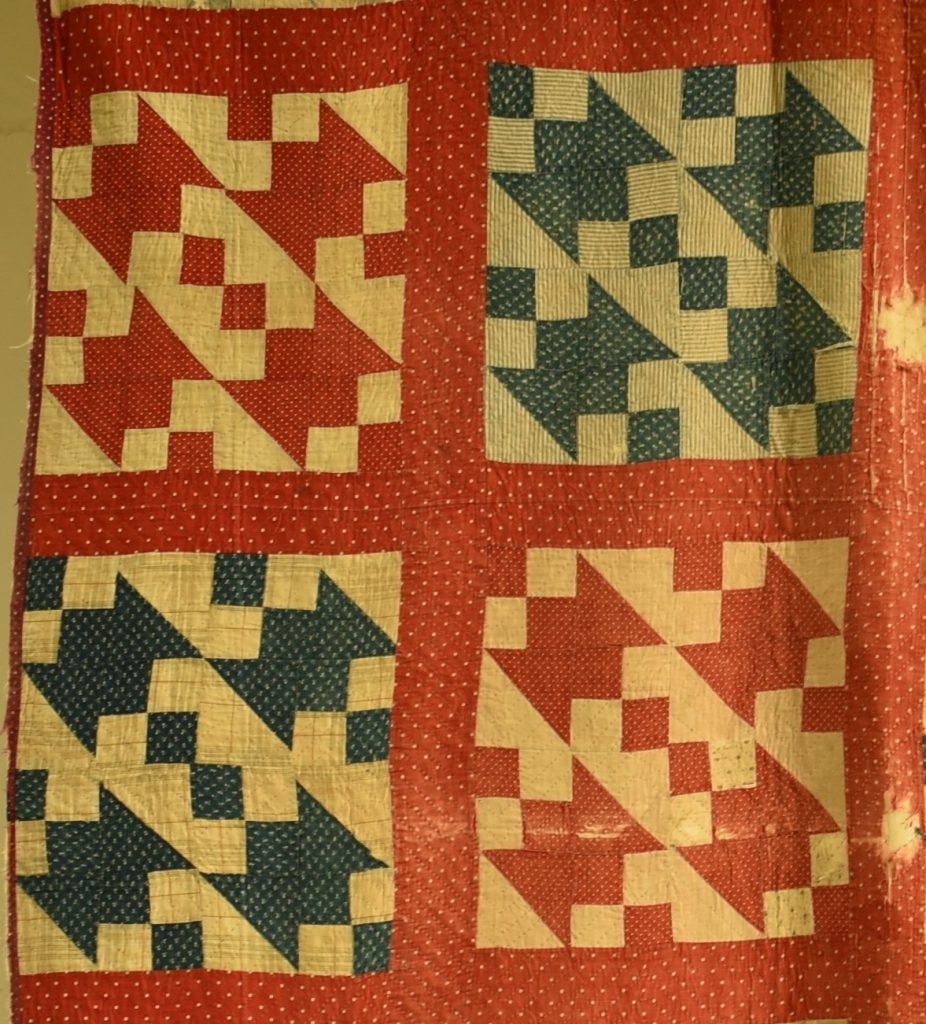 Closer examination reveals that the quilter perhaps had problems getting enough red fabrics for the blocks. There are a number of the red blocks on the top and bottom rows which are smaller than the blue ones.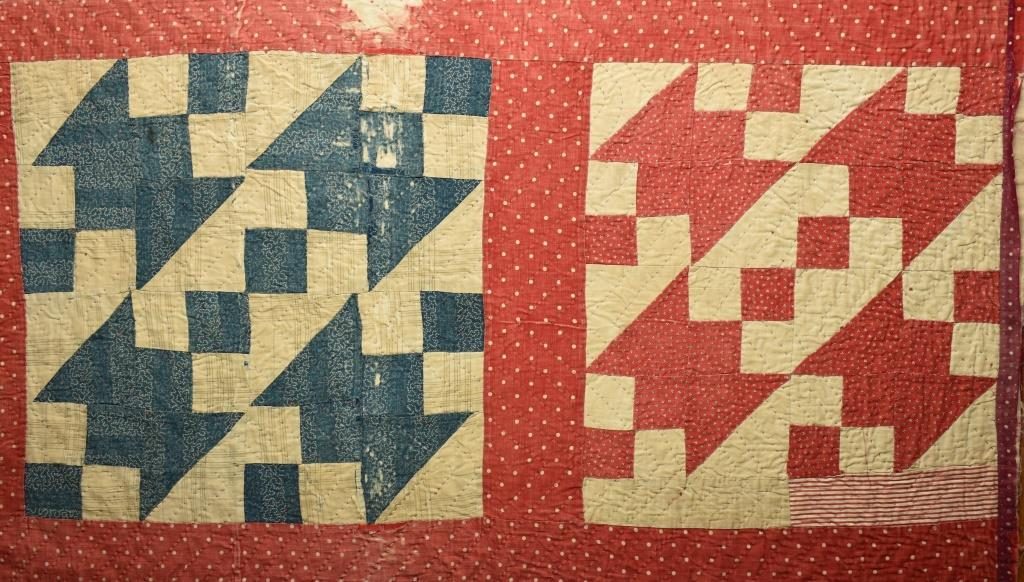 I think the lack of red fabric is probably the reason for the row of half-blocks at the top – the blocks used are noticeably smaller here, and may have been trial samples that she initially made, which in desperation were pulled out to be included in the final quilt.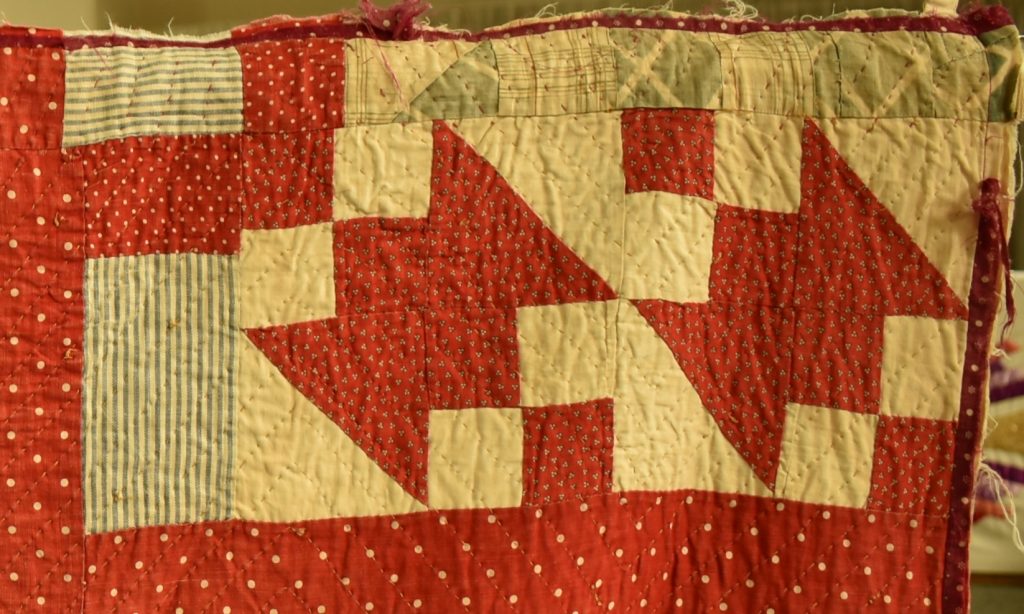 Quilting
The quilt has no wadding, but there is an internal layer of plain calico in addition to the similar backing.
The whole quilt has an overall quilting design of zig-zags – chevrons. Surprisingly, the thread colour changes half way down the quilt from yellow to red – she must have run out, and been unable to source (or afford) a match to the original colour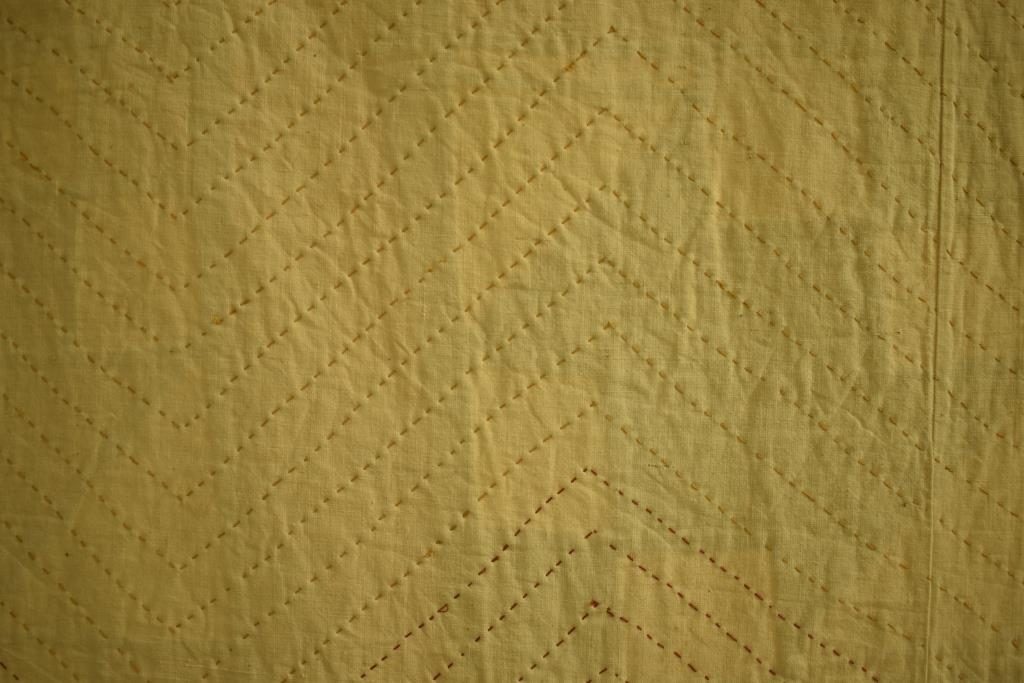 Origins and date?
Where and when was this quilt made? Unfortunately, I did not know to ask about the provenance when I bought it, and although it was bought in Wales, it has none of the characteristics of Welsh quilts
The block style is more characteristic of American quilts than British, but from the late nineteenth century, this transatlantic influence can be seen on a number of British quilts.
This style of overall quilted chevrons is typical of that found in quilts from Cumbria in the North West of England, which is one of the few clues about the origins of the quilt.
The blocks are hand-pieced, but the binding (now very tatty) is machined on.
I estimate that the quilt dates from the late nineteenth century, based on the popularity of Turkey Red fabrics during that period, and the other simple indigo blue prints.
There are more Antique Quilts to look at if you click on the link.
If you would like to make a similar quilt yourself, have a look at the page in the My Designs section about my Northern Lights quilts, or go straight to the pattern in my online Shop.