It's surprising, and a little sad that so little guidance is available about quilting design. So many of us have lovely patchwork tops which remain unfinished because we are not sure how to design quilting that will complement our piecing – not to mention the more daunting task of designing a wholecloth quilt.
Grid Quilting
The simplest way to quilt a patchwork top is to stitch straight lines to form a grid pattern over the whole surface. This does not need free machining, but is easily quilted by hand, or by using a walking foot on the machine, which automatically gives an even stitch length.
As the lines go straight across from one edge to the other, there is no need to worry about starting and finishing invisibly. Another advantage for a large quilt is that it does not need to be constantly turned around under the machine.
There are a number of grid patterns that can be used – for more information about this, go to the Grid Quilting page where there is also advice about how to move the quilting lines to a position where they avoid bulky seam allowances as far as possible – this makes it easier to stitch.
If you would like to learn how to work out the best spacing and placement of grid lines like this, a technique pack on Grid Quilting is available in my online Shop.
Cable Designs
Borders are an area where a more interesting quilting design will show up well.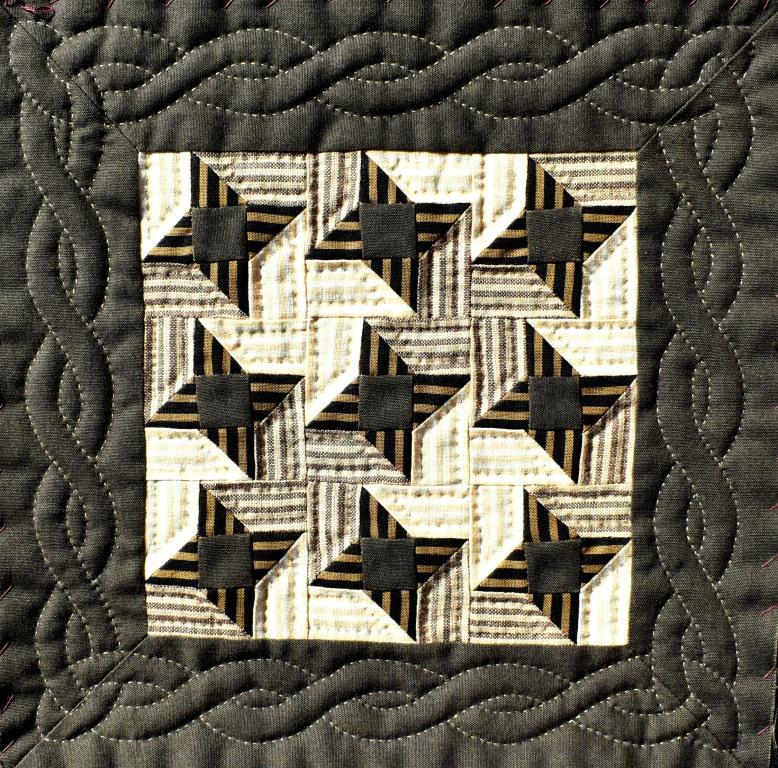 Cables are a popular choice, but the commercially available stencils are rarely the correct size for your own projects.

Different sizes and styles of cables are possible – can you see that the one below has different proportions compared to the one above?

The cable below is also found on the same antique White North Country Strippy Wholecloth, but has more strands and a different appearance, as the cable goes under and over like a twisted rope:

More information about cables can be found on the Drafting Cable Borders page, including information about another technique pack which you could use to learn how to draft a cable border (including the corners) to fit any shape or size of quilt .


Each step is shown separately with detailed diagrams, and there are various options to explore which can change the style of the cable.
Running Feather
Another beautiful border design is the running feather. This is often found on wholecloth and strippy quilts made in the North east of England.

I have designed a Techniques pack to help you learn how to draw this lovely design to fit your own project. Like the Cables above, it uses a special grid so that you can adjust the shape and size to your own liking. You can purchase this for £10 in my online shop: Drafting a Running Feather