This Strippy Quilt is unusual as it is double-sided.
Both sides have the same deep beige/magnolia cotton sateen fabric, but on one side it is paired with yellow, and on the other it is paired with shell pink.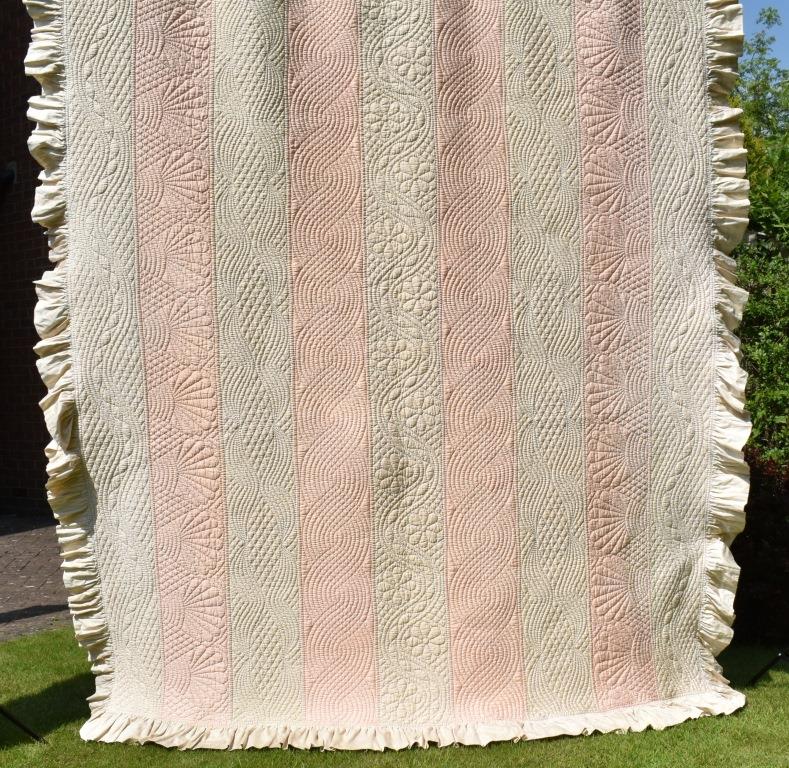 It probably dates from the 1920s, as this is the period when frills were very popular on quilts.
The quilting designs run straight down the strips, as was usual for quilts made in the North East of England. The designs are nicely planned and executed.
Both the central design and the outermost strips feature a pattern known as "worm and spectacles" – a waving pair of lines filled with a chain of ovals. However, the curve is much tighter for the central design, making room for flowers in the spaces.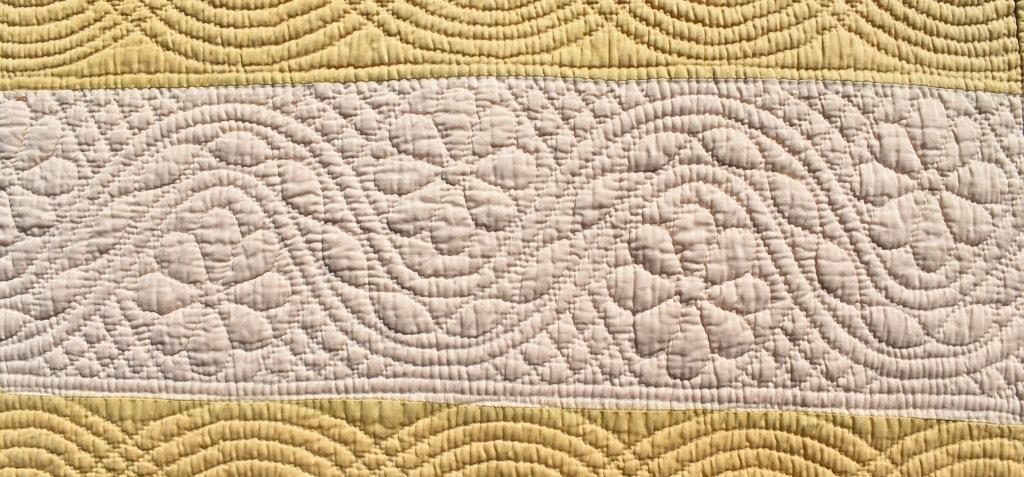 On the outer strips, the space left between the longer, gentler curves is simply filled with a square diamond filling. This is a more typical shape for the "worm and spectacles design.

The quilting designs on the other strips are arranged in mirror-image pairs at equal distance away from the central strip, as is common with strippy quilts.
A broad, eight stranded cable come next:

Cables are an ever-popular design, not only on Strippy Quilts, but also as borders on wholecloth quilts such as the Green & Gold Welsh Wholecloth, and on patchwork quilts such as the Rob Peter to Pay Paul.
If you would like to know how to draw a cable design, and make it fit your quilt perfectly, have a look at the Drafting Cable Borders page
On this Strippy Quilt, the next design is an unusual one, which I have only seen in a variation on another quilt made by the same unknown maker. Pairs of swags are arranged opposite each other – it is the extra curve in the swags which makes them look like moustaches, or exaggerated lips. The oval gaps in the middle and on the outside are filled with square diamonds.

The remaining design is made up of repeated fans:

You can see more of my antique quilts by clicking the links: