This popular design is made up of individual units which can hold cards.
Strung across a wall, or over a door, they are colourful decorations in their own right, but have the added bonus of being useful.
You can buy the download pattern from my online Shop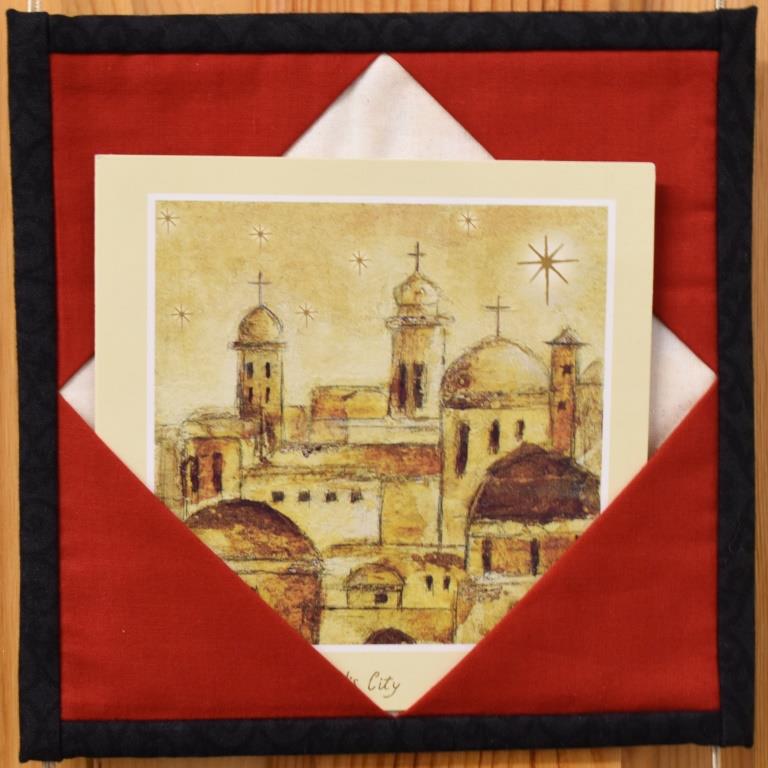 This short video shows how this project can be used:
Displaying cards
How do the cards fit in?
Well, although this looks like a square-in-a-square, the construction is different – each triangle is actually made from a folded square, forming a pocket.
So, the cards can just tuck inside.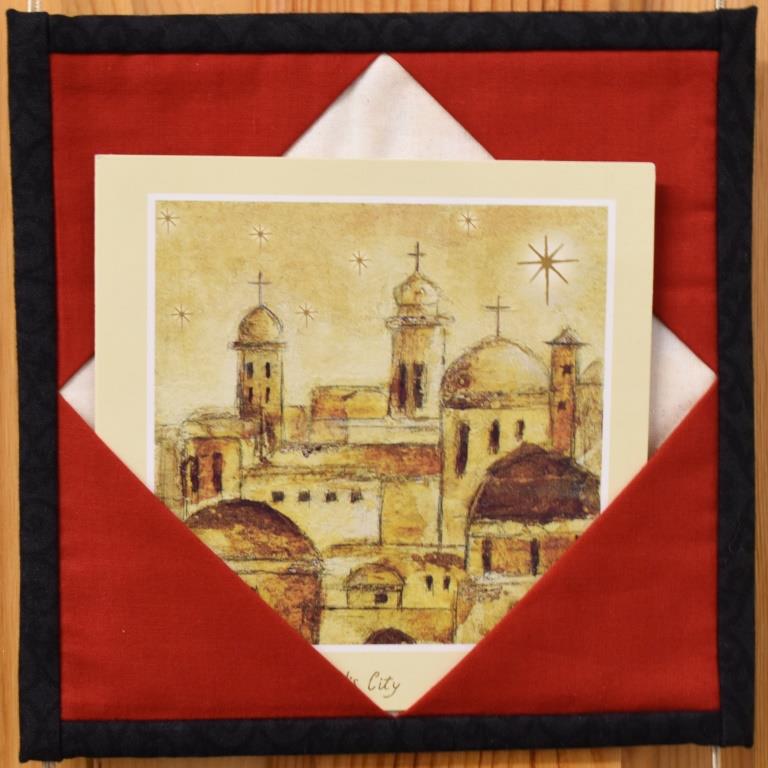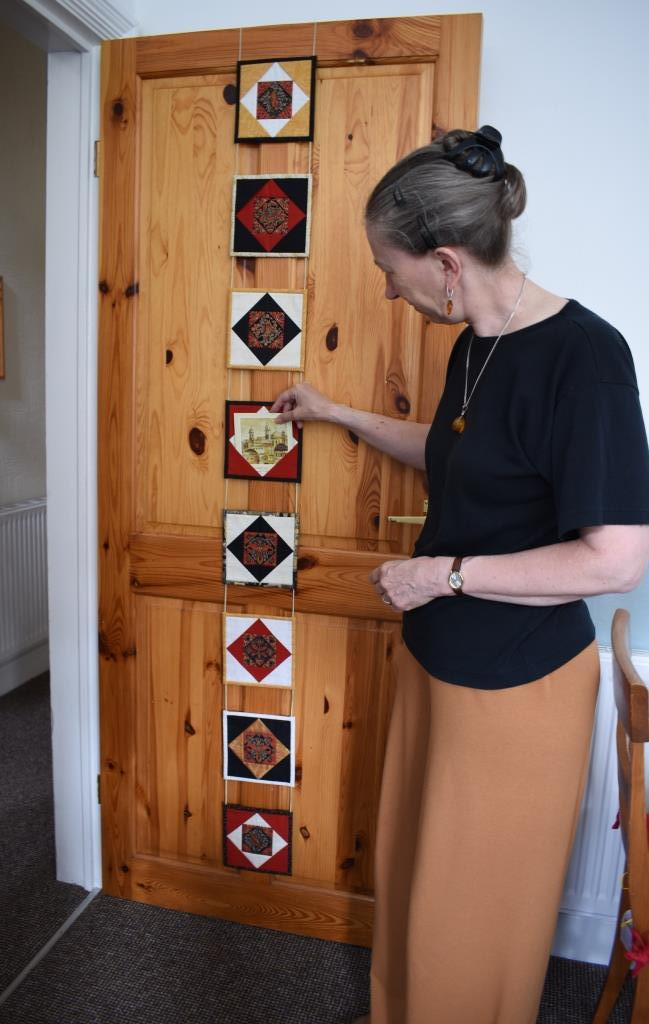 Design features
A number of clever features are incorporated into the method to make this project quick and enjoyable.
The pattern is suitable for a beginner, and each step is explained carefully. The assembly of each unit is done using a "Quilt-as-you-Go" method, so this is a project which can be completed in quite a short time – and if you don't quite finish all the units you had originally intended, you could always make a few more next year!
The size of the pattern is designed so that you could use a set of small 3″ panels for the central squares if you wished – or you could fussy cut motifs from any suitable fabric.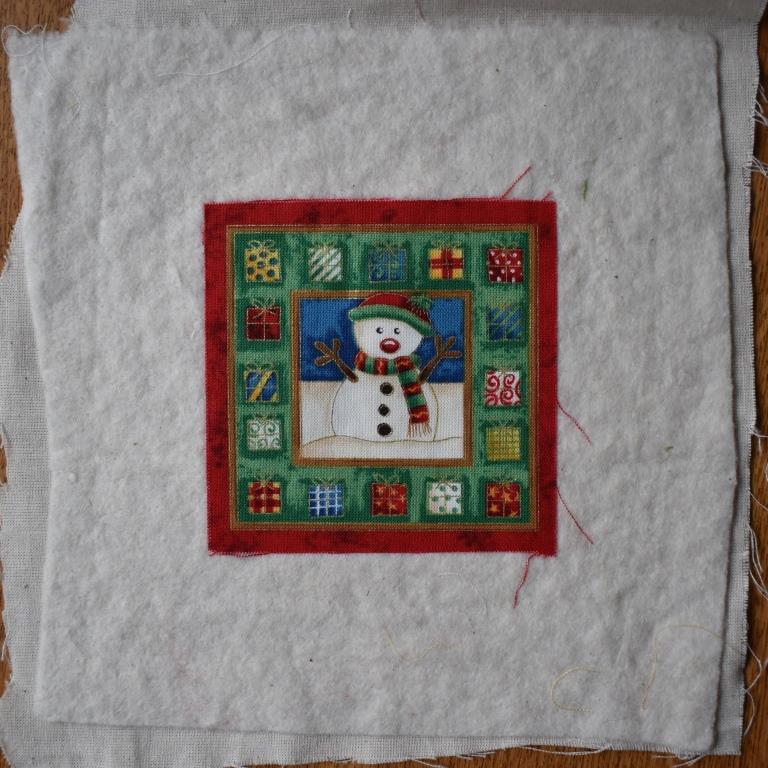 Layering the fabrics onto the wadding as they are used to make each small unit, means that the construction seams double up as quilting lines.
I recommend fusible wadding, as this makes everything stay in the right place. The photo above shows the first step – the central square ironed onto the wadding and backing. Wide strips are then added with a "stitch and flip" method, before the folded triangles are placed at the corners, and double-fold binding stitched around the outside.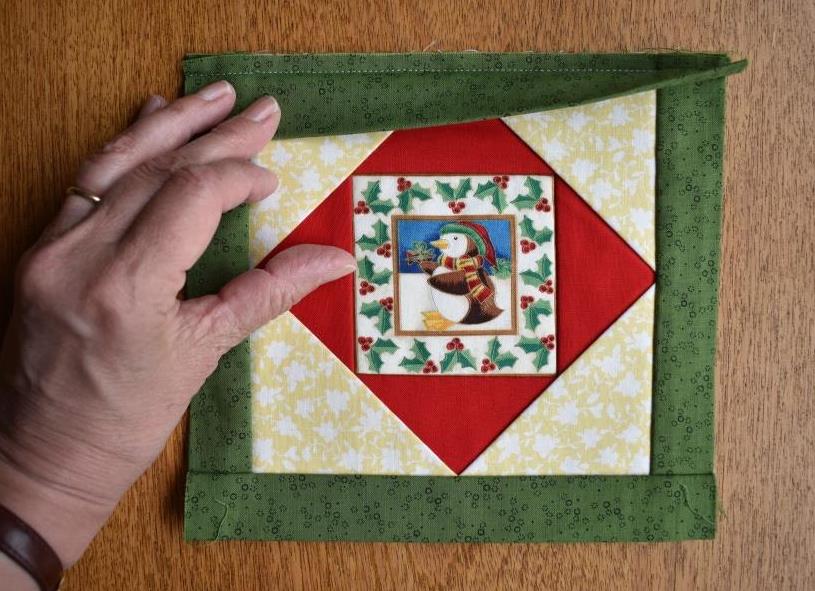 The binding is then stitched down on the back, trapping the hanging cord inside.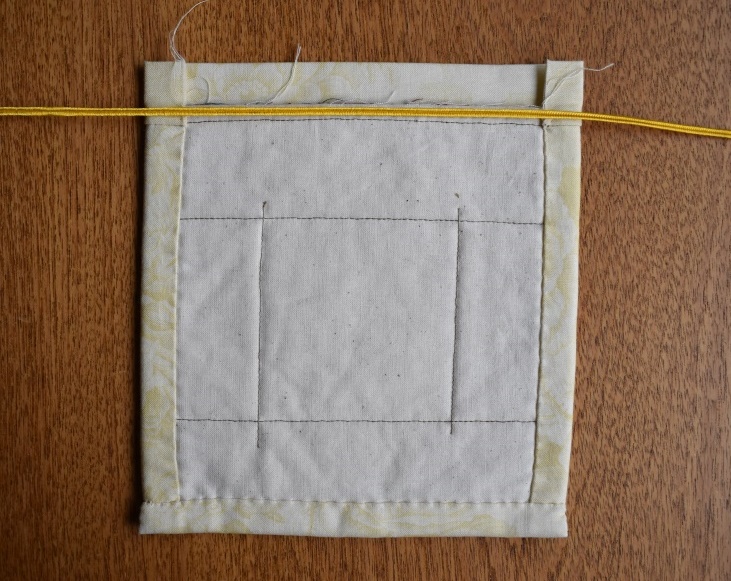 Displaying the Bunting
As it shows on the video, the individual bunting units can be joined together in two different ways:
If the cord is trapped in the top of each unit as shown above, the bunting strings across the wall like this:

However, if cords are trapped in each side, as shown here, this allows the bunting to hang vertically.
I made a long set, which hangs over the top of a door, so that half can be seen from e.g. your hall, while the other half is in the living room.
The Christmas Bunting pattern, available from the Shop, contains instructions to make it up either way.
The project can be varied in a number of other ways:
the number of bunting units can be adjusted to fit your wall.
they can be made in a set of coordinated fabrics, or made from left over scraps from other projects
The central square can be replaced with lettering, selected to suit the celebration, such as "Congratulations" or "Noel".
Or, you could personalise it with someone's name.
The lettering is included in the similar Birthday Bunting pattern

The download patterns can be bought from my online Shop for £8 each:
If you would like to follow a complete step-by-step video tutorial for the Birthday Bunting (or the Christmas Bunting – the method is the same), this can be purchased via the UKQU website for £10
If you receive cards of various sizes, you might also like to look at the Multisize Bunting


Back to My Designs